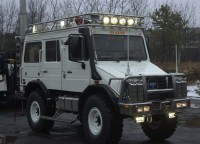 I've been following the MaxiMog for at least a year now. It's an incredible piece of machinery, designed modularly so that you can traverse or recon whatever type of terrain you need access to. The MaxiMog is built on a Mercedes Benz Unimog chassis. Everything else seems to be completely customized – take a look at the cockpit-like front seat to see what I mean.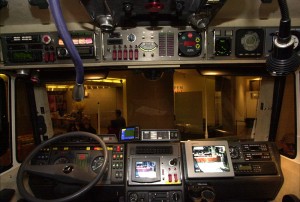 Why was it built?
The MaxiMog™ vehicle and trailer was built because it's owner plans to drive around the world to remote and hard to get to places doing both photography and scientific exploration. Contrary to what many people believe, most of our planet is still relatively unexplored. After a year of research, he determined that a custom vehicle would have to be built to meet his requirements. The MaxiMog™ is the first pass at that solution and is a work in progress.
As if the main vehicle isn't enough, the MaxiMog has a trailer with full living quarters, which are expandable and include many tech gadgets and an incredible sleeping area: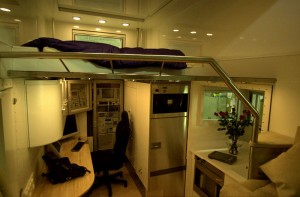 Lastly, just in case you get to a point where this monster can't quite get you, don't worry. You have full access to a BMW R1200GS multi-purpose motorcycle, a jet boat for marine applications, and a Unmanned Aerial Vehicle (UAV) for reconnaisance.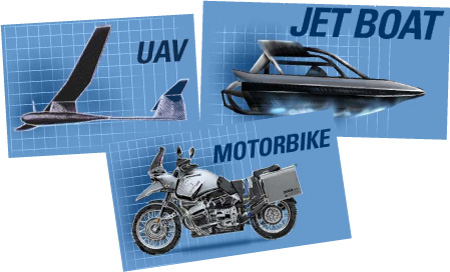 If you would like to know more about this extraordinary vehicle, I would strongly suggest going to the MaxiMog website – also take a look at the MaxiMog FAQ.