In 2008 we saw the scales begin to tip with imports of data enabled phones being larger than that of non-data enabled phones.
In 2009 we saw the undersea cables hit East and Southern Africa in a big way.
In 2010 we saw the mobile operators get serious about data availability and cost packaging for everyday Africans.
2011 is upon us, and with it brings a new type of data-enabled mobile user in Africa. It also brings the mobile web to center stage.
Mobile web content has been defined as any internet-connected or browser-based access to the internet and as digital content connected to a database that passes through a handheld device connected to a wireless network.

Simply put, the mobile web is the same data that the web layer brings to you on a computer, just now on your phone.
The mobile phone is the most ubiquitous instrument there is in the market. Usage is no longer limited to sending and receiving calls and texts, especially with the increase of data enabled phones, increased bandwidth availability and decreasing data costs. The convenience in terms of use-anywhere-anytime has made access to mobile web content easier, accelerated by dropping rates of mobile handsets and data.
What does it look like?
Here are a couple of examples: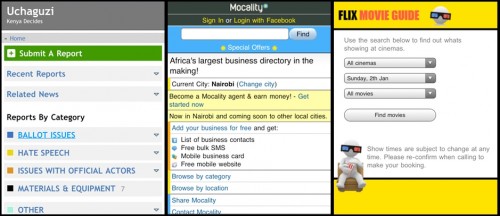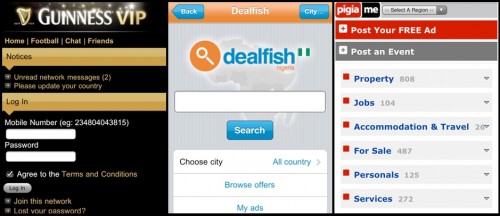 You can see that it doesn't look all that different from it's purely web-based counterparts. It's the same data, just more accessible on your phone.
There are strong plays to be made in all of these fields, as there are few leaders in any country, much yet regionally… yet. The reason for that is we're just on the front end of this sea change, so even the leaders only have a very small slice of the pie.
While there will always be a place for client-focused mobile applications (Android, iPhone, Ovi, etc.), there is just too much friction there to scale. Friction for the developers who build the applications, and friction for the users who need the "right" phone to access the apps.
For more brain food on this topic, I suggest reading Fred Wilson's post, Counternotions and alternate thoughts from Diogenex.