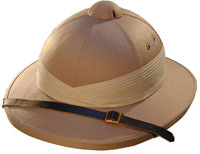 Want to become an instant pariah? Talk about race in Africa. How about you continue and blame Africans for Africa's problems, and how Africa isn't living up to it's potential. How about you make things even more explosive and talk about how things would be better if the white man was back in control.
Stirring up a huge pot, that no one in their right mind would want to touch, Dennis Matanda has really put himself on the map. He started with sarcastic Call for African Recolonization: Part 1 where he claimed:
Because those leaders mentioned above are useless black people, I would like to recommend that instead of wasting our time and wringing our hands in helplessness while the rest of the world slowly but surely gets numb to our pain and leaves us behind even faster, we should let these good white folk come back to actually and effectively run our African countries and affairs. Yes – we know that white people control our budgets behind those curtains of donor aid and NGO's – but they give momentary power to uninstitutionalized Africans – who can, in less than a heart beat, do more damage to a good and viable project than 1,000 barracudas can do to a ton of succulent lean beef!
Are you allowed to say that!? Even when not being serious…? Dennis continues, and completes the thought pattern, in Part 2:
While this article was in no way designed to be disrespectful to any race, the comparisons and expressions used here are meant to disparage the African leader. The African leader, for his part, has not, under any circumstances, progressed from being the selfish village idiot that he really is under those expensive suits and desire to travel by either private jet or business class. He is still being controlled by the environment that spawned him or her and to make things worse, that environment comes to haunt them on a regular basis. It's this force of supernatural powers that is to blame for all the things that we go through.
Does anyone want to really openly discuss these types of issues? Discussions of race are always very touchy within our African blogosphere and this is no different.
Go read both articles, Dennis is a talented writer and offers up fertile discussion ground. I welcome his fresh new voice and will continue to read his interesting articles. African Path is quickly becoming a great platform to read thoughtful articles by Africans for Africans – keep it up.