One of the guys that I've been fortunate enough to get to know over the years is Ken Banks. He's a tireless believer, and more importantly practitioner, in the field of mobile phone as change agent in the world. His FrontlineSMS mobile phone software has been making waves from Chile to Nigeria, and it's use is only accelerating.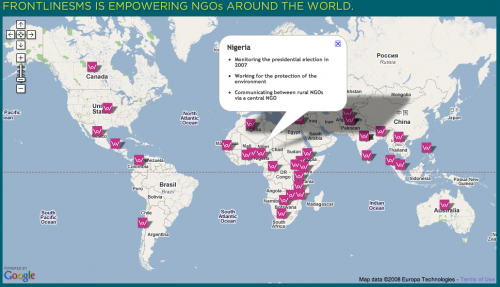 Since its initial release in 2005, FrontlineSMS has been adopted by NGOs in over forty countries for a wide range of activities including blood donor recruitment, assisting human rights workers, promoting government accountability, keeping medical students informed about education options, providing security alerts to field workers, election monitoring, the capture and exchange of vegetable (and coffee) price information, the distribution of weather forecasts, the co-ordination of healthcare workers, the organising of political demonstrations, the carrying out of surveys and the reporting and monitoring of disease outbreaks.
As of today (9am GMT), the new and improved version of FrontlineSMS will be unveiled. The software will continue to be made available for free to non-profits, available in Windows, Mac and Linux formats in six languages; Chinese, English, French, Portuguese, Spanish and Swahili.
Knowing Ken personally has a few perks, like the chance to see the new version early and know the amount of work he's been putting into making this come into being. On top of that, Ushahidi will be utilizing FrontlineSMS as an extension to the new version of the tool we're creating – and I know that InSTEDD plans to do the same. You know you've created something remarkable when you're starting to make an impact on the NGO and the technology sides of the world.
Keeping up with Ken is difficult, as he's a road warrior constantly speaking at conferences or in the field with his software. My suggestion is that you join the his Social Mobile Facebook group, catch him on Twitter, or read along on the Kiwanja.net blog.
Ken, congrats on this, I know it's been a long time coming. Next drink is on me! 🙂