If you've been wondering what the numbers look like for Kenya's mobile and ISP space, look no further than the latest CCK Report (Communications Commission of Kenya). It's one of the best documents that I've seen, compiling information that you just can't seem to find anywhere else.
Highlights of Q4 2010:
There are 22 million mobile subscribers in Kenya
9.5% mobile subscriptions growth, which is increasing over the previous quarters
6.63 billion minutes of local calls were made on the mobile networks
740 million text messages were sent
Prepaid accounts for 99% of the total mobile subscriptions
The number of internet users was estimated at 8.69 million
The number of internet/data subscriptions is 3.2 million
Broadband subscriptions increased from 18,626 subscribers in the previous quarter to 84,726
Price Wars
Everyone recognizes the impact on SMS and voice, due to the price wars brought on by Airtel last year. The average, people are paying 2.65 Ksh per minute for voice representing 33.4%
reduction on pre-paid tariffs. It comes as no surprise that there was a 68.4% increase in traffic during this period, nearly triple the norm.
There's nothing like a chart to bring this point home: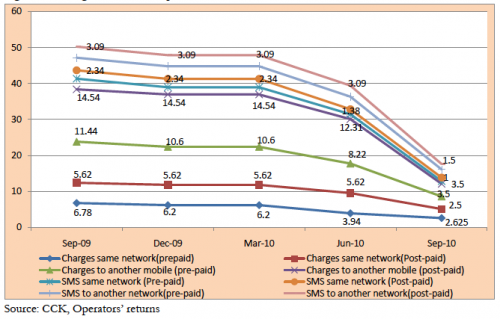 Interestingly, a decline in total number of text messages sent (4% less) was recorded. It's an indicator that given the choice of lower cost voice, people would rather use that, and they do.
Safaricom lost 4.8% market share, from 80.1% to 75.9% (still massive). Surprisingly, it wasn't Airtel who benefitied, as Orange made up for most of that with a 4.4% increase of their own. Airtel did lead the market by recording 1,143,353 new subscriptions, about 3x their closest competitor.
Internet
A whopping 99% of the internet traffic in Kenya is done via mobile operators, meaning 3G, Edge or GPRS. It's to Safaricom's credit that they moved on this early, not dithering around on data as their competition did, effectively taking the whole market.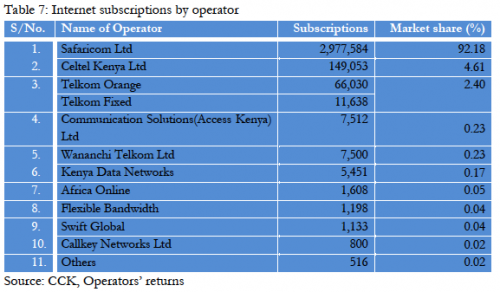 My theory is that there are only two major players in the ISP space in Kenya. The first is Safaricom, supported by this report, who will own most of the country due to having an island strategy (mobile towers). This allows them to own all the rural areas and anyone who needs decent speeds and has to be mobile.
The other is the fiber bandwidth provider (ISP) who figures out and cracks the consumer market. The closest to doing this is Zuku (Wananchi) who started rolling out 8Mb/s high-speed fiber-to-the-home internet connections in Q4 2010 at only 3,499 Ksh ($45). These numbers aren't reflected yet. My guess is that we'll see Zuku tying up all the home internet connections in the major urban areas.
Estimates for those with internet access in Kenya is closing in on 9 million users, and at over 22% of the population, we can say we're getting a lot closer to the critical mass needed for real web businesses and services to thrive.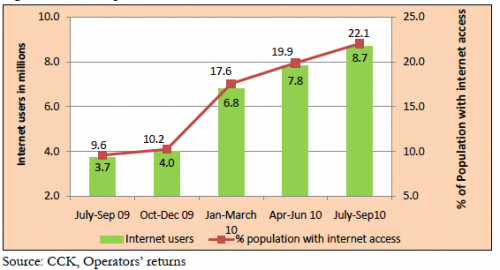 Final Thoughts
Overall, the numbers on both mobile and internet are trending up, and at a very favorable rate. The indicators here prove that you should be paying a lot of attention to mobiles and data connectivity in Kenya.
If you're a business, what's your mobile plan? How are you providing and extending your services over the internet (and no, a website is not enough)?
If you're an entrepreneur, how are you going to use this information to decide what to build? Are you paying attention to the wananchi, building apps for the upper class?
PDF of Report: CCK Report download – Kenya Q4 2010