Geekette asked me to take a look at this session, and I'm glad I did. Danah Boyd is a very intelligent woman and gave one of the best presentations so far at ETech 2006. Now, G/localization is an abhorrant word and I apologize for having to introduce it to you. Danah summarized the term best saying, "The ugliness that ensues when you shove the global and local together".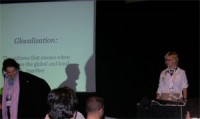 The presentation was on how you create social communities online. One point, that I thought particularly interesting, was that though we can contact and speak with anyone in the world, that we end up getting online and wanting to engage with people we know or people that are like us.
Anyway, here are all my notes as a Word document (be warned, I was typing very fast so errors abound).
Also, I was sitting next to a very nice guy called djlotu5 who took an audio feed of the whole session and allowed me to link to it.