Things are happening very quickly with Ushahidi. We just launched yesterday and there are already thousands of people visiting the site. That's good, but not good enough.
What we need from you, more than anything, is to get the word out to your family, friends and acquaintances in Kenya. Call, email or SMS them today!
There is continued refinement and improved functionality being added all the time. Here's a quick rundown of what we've done and are doing.
You can now SMS your report to +447624802635 with your mobile phone.
You can email your reports and images to tips@ushahidi.com
We have added a "Peace Efforts" button to highlight the good things that are happening.
The "How you can help" page has started. The first is a way to send money via MamaMikes.com that will be distributed by the Kenyan Red Cross.
There are new buttons (with copy/paste code) for you to add to your websites on the about page.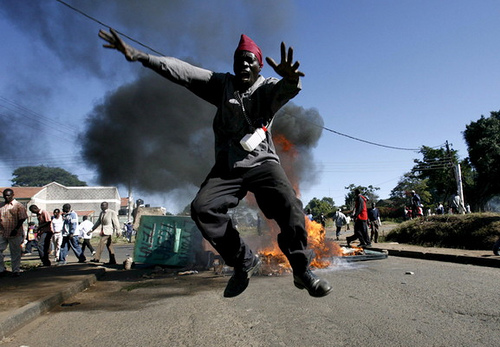 Image by usumdelphini89 via Flickr
Other happenings:
Daudi Were and Ory Okolloh continue to foster relationships with NGOs in Kenya through the NGO Council. If you can help them, or would like to offer your assistance, please let us know.
Joshua Wanyama of AfricanPath has offered to help grow and manage images on Flickr of the post-election crisis in Kenya. You can find the Kenya Post-Election Pictures 2008 Flickr group here. Consider sending yours in and tagging your images with "KenyaElection2007".
A big thanks to all the bloggers who have covered the launch of Ushahidi:
Digital Activists Find Ways to Help Kenya
Ushahidi: What Social Media Can Be
Ushahidi.com on KenyanPundit
Free Speech (and business) Made Easy
More ways to Help – Kenya's Post Election Aftermath
Digital Documentation of Post-election Violence in Kenya
Technologies Role In Reporting Violence In Kenya
Ushahidi by Mweshi
Ushahidi: report acts of violence in Kenya
"Bear Witness"
Nigerian Digerati Need to Create Web Tools Like Ushahidi
Technology for Advocacy in Kenya Crisis
Ushahidi by Alfajiri
Can I Get A Witness!
Ushahidi by Ntwiga
Concern over under-reporting of dead prompts digital project in Kenya
Kenia: Zeitzeugen gesucht
Kenya: A tool for reporting acts of violence
Working to track the violent crimes in Kenya
Swahili bloggers:
Una ushahidi wa yanayojiri Kenya?
Ushahidi + Ukurasa Maalum Wa Kenya + Action Alerts Blog