Grameen Foundation's AppLab has released a new suite of mobile phone applications developed in Uganda, using Google SMS Search and in partnership with MTN Uganda as the mobile operator. The services include:
Farmer's Friend: a searchable database with both agricultural advice and targeted weather forecasts
Health Tips: provides sexual and reproductive health information
Clinic Finder: helps locate nearby health clinics and their services
Google Trader: matches buyers and sellers of agricultural produce and commodities as well as other products. Local buyers and sellers, such as small-holder farmers, are able to broaden their trading networks and reduce their transaction costs. (known locally as "Akatale SMS")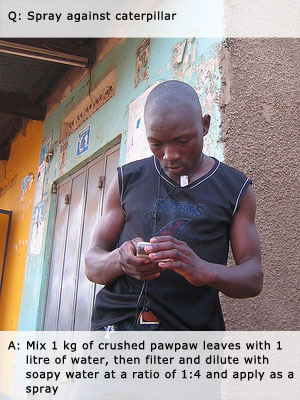 Back in 2004 Grameen started to replicate in Uganda what they had done in Bangladesh with their Village Phone Operators. That is, they would go 20km beyond the best phone signal and provide a loan to a lady in the village that would let her buy a phone and an antenna that would extend the range of the network. The lady would then resell services to local individuals who didn't have access, or the ability to buy their own phone.
I'm actually quite impressed with this initiative, as it fits in perfectly with Grameen's mission: providing opportunity through the most basic of mobile phones. All of these services work on SMS-only phones, so anyone with a single bar of coverage and a phone has access to a lot of knowledge in their hands.
Here is a promo video from Uganda, explaining why these services are needed:
High-powered Partnerships
Beyond the applications themselves, what I find most compelling is how the Grameen Foundation collected such a high-powered group of partners. The list reads like a who's-who of innovative mobile services and development in Africa with Google, MTN Uganda, Technoserve, Kiwanja.net, and BRODSI to name a few. It's a mixture of for-profit businesses, local NGOs and non-profit tech organizations.
I remember a conversation a couple months back with Sian Townsend (Google) and Ken Banks (FrontlineSMS) about how they did the field studies for this project. Sian shared with us some of her research on mobile user experience while in Uganda – it was extensive. Through a month of rapid prototyping and studying how users were actually using the new services, the team quickly learned what was important and how to better serve information up to the end-user.
Though I haven't been able to personally test the services yet, with this group, I would expect the results to be better than average. For instance, Google doesn't tend to get involved with ideas that don't scale. I imagine that they see replicability with both SMS Search and Google Trader in many other countries as well. Rachel Payne, the country manager for Google in Uganda, has a blog post here, but not much more information on the long-term plans for Google Trader. I'd be interested in seeing how this compares to Esoko out of Ghana.