Dvorak has written a scathing criticism about the OLPC ($100 laptop). Bill Thompson answers it in a BBC article:
"And he demeans the people who will receive the computers, asking his readers if they will feel "better about the world's problems, knowing that some poor tribesman's child has a laptop", apparently contrasting a "tribesman" with a real person like himself, safe in his Western affluence."

Who cares?
Why does it matter that two rich Westerners are batting back and forth over the strategies and benefits of a cheap computer for children in developing countries?
As someone who grew up in Sudan and Kenya, I care. I care because I continue to hear the argument, "why give kids a computer when what they really need is food and water?" I care because people need to stop talking about Africans as if they're in need of another handout and implying that every child in Africa is living in squalor. Most of all, I care because I don't hear many voices from the countries that are going to be using these new computers, only from journalists from western countries.
Let's talk about the Africa we know
There will continue to be drought, floods, war, corruption and poverty – all of the items that plague many African nations and which are amplified by the media.
However, there will also continue to be a solid majority of Africans who live happy lives without the interference of any aid or development organization. They will live in their village, raise their children, send them to school and teach them from their rich heritage. There will continue to be children growing up in the city who love to learn and would blossom even more with access to technology and information.
If you grew up in Africa, do you think that there is a use for inexpensive computers in schools?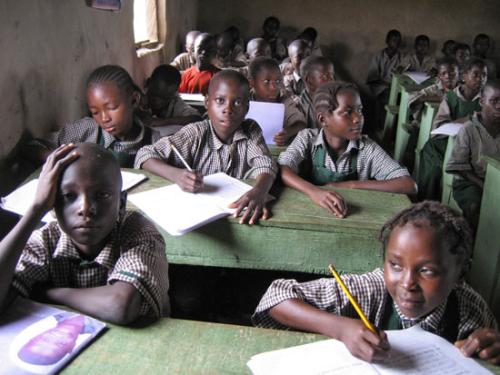 See the picture above. Why shouldn't those children have access to these machines? They aren't illiterate or under-nourished. How many of us remember this same type of schooling? I do, I was in a primary school very similar to this in Southern Sudan. Why couldn't any of my classmates become technologically literate with access to the right machines? Why only the relatively affluent white child?
What is Africa anyway, and who decides what's "right" for each country?
Let's stop painting Africa with a broad brush. Let's speak out and remind people that it's made up of more than just "tribesmen". That not every country is the same and that there are wealthy, middle class, and yes, even poor people. Let's stop pretending that Ghana is the same as Ethiopia, or that what applies to Botswana applies to Chad.
Most of all, as people with experience living there, let's own our part of this debate. Why should one more Westerner be making the case for, or against, a cheap laptop for kids in Africa? I'd rather hear two Africans debate it. I'd rather have a thought leader from some African country step up and make the case for, or against, it.
Just because we grew up listening to others decide what's right for our countries doesn't mean we need to continue in that same way.
Try this on for size: as an African, you are more of an expert on what your part of Africa needs than any self-prescribed expert from the west.