Today is only a half day at Barcamp Nairobi 2010. We're getting underway, and there are 5 talks so far:
9 colloquial Kenyan languages in Whive.com by John Karanja
Live mapping using OpenStreetMap and GPS units by @mikel
"Build a Drupal site in 20-minutes" by @batje
"Geek girls in Nairobi" by the Akirachix
Explaining the Kenya ICT Board $3m grant by @Kaburo
Google Geo API
The $4 Million Kenya ICT Board Grant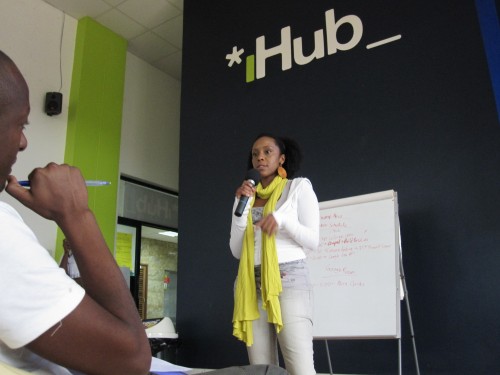 "US$ 4 Million of the proceeds for Grant Applications for the development of digital content and software applications."
It was announced 10 days ago, and there are already 500+ applications. Final applications are due by July 19, 2010.
$10k for individuals and $50k for organizations. That is a Kenyan citizen and above 18 years old, for companies, you have to be registered in Kenya. You have to show your resume/CV for the leadership team.
The application can be done online.
Two main areas of the grant:
Government services and applications (5 ministries)
Any innovative ideas around digital content and software
The first 46 grants will be handed out to both private and public sector ideas and applications. More grants will be given out to companies (30) than private individuals (16), but there will be an equal split between the two groupings.
Grants announced on August 15th, 2010, at which point they will be working on contracts. The grant will be given out in 3-4 tranches, starting in October 2010. The funds have to be spent within 12 months. There will only be 46 grants given out this year (2010).
A single company can apply in multiple rounds for a grant, but will only be given one grant per round.
What protection will your idea be given? The team looking at and reviewing/judging the applications will be signing NDAs. There are 9 judges who will decide the winning proposals, and they do plan on sharing the names of those individuals.
Some people are worried that if they have a new idea, and they're working for a company, that that company will own it and not them. Kaburo Kobia is suggesting that if they believe that is really the case, then the individuals should break away before then.
If you have any questions, make use of their website, send them an email at grants@ict.co.ke, call them at +254-020-2211960 or visit them on the 12th floor of Teleposta towers.
Google Maps API
Mano is one of the top engineers from the Google Maps team and he was flown out to Kenya specifically for Barcamp Nairobi. He's giving an overview of what can be done using their API, well beyond the normal pointal use that we see all the time.
I asked him what they're doing about offline mapping, especially for those of us in Africa who don't have the same access to connectivity. Mano says that they're concerned about offline maps as well, which they don't offer, but not for the reason I suggested. Instead, they see most of the people in the world accessing maps via mobiles, so they need to be able to let that happen when data capability is not within range.