If anyone doubts the power of the internet in Africa, they need to look no further than what is happening in Kenya right now. Kenya is balanced on the precarious edge of a cliff that could quickly descend into even more riots, bloodshed and government heavy-handedness. The people I'm talking to via Skype/email tell me that there are gunshots going off as we type… This isn't Zimbabwe (yet), but it is still bad.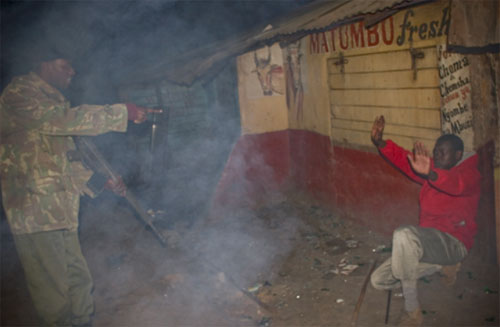 (image via WIR Media – downloadable below)
As of yesterday there was a media blackout. The only way to get any up-to-date news for the past 24-48 hours has been through the blogosphere (like Kenyan Pundit, Thinker's Room, Mentalacrobatics), Skype and Kenyan populated forums (like Mashada). The traditional media has been shut out and shut down for all intents and purposes.
Two thoughts were racing through my head last night as I was trying to sleep.
Internet Penetration
First, though the internet is good for us in the diaspora and a few in Kenya, it just doesn't have the reach to the wananchi (average citizen) in Kenya. The government knows that shutting down radio, TV and print is still the most effective way to squash news.
However there is still the mobile phone, specifically SMS messaging. The problem with mobile phones is that they're so disbursed – there's no central core for users to all tune in to. Of course, that's the strength in mobiles too. The trick is to leverage the strength without destroying the medium.
What Can be Done?
I went to bed trying to think of what I could do. Situations like this are where technology can really shine. The government can squash traditional media, but not technology that it barely knows exists.
Anyone can see that the problems in Kenya right now (both news blackout and general communication) also represent a real opportunity. There is a great need for a service that can't be easily controlled by the government. How about a platform that serves as a centralized repository for on the ground reports from any Kenyan via SMS? The ability for people to upload videos and images with some text to a web-based and mobile phone accessible site.
Technology Being Used
I've been touching base with all of my contacts and these are the tech stories that I'm hearing:
Phone cards are in short supply, so people are using Sambaza to top up their mobile phone minutes. (Kenyan Pundit)
No one was able to get to the cyber cafes in Kenya to get on the chat, so David at the Mashada forums is working to create a way to post to them via mobile phones.
Further reading:
Downloadable news and pictures from WIR Media – read and pass it on (1.2 Mb PDF)
Ndesanjo has done an excellent job of hitting the major points of the Kenyan blogosphere over on Global Voices.